Posted by Outdoor Covers Canada on 31st Jan 2019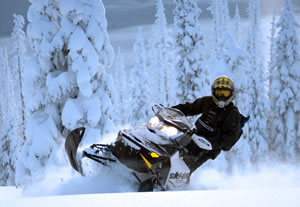 With winter in full swing, now is the time to protect your snowmobile from snow, harsh weather conditions, trailering and from dirt and debris during storage for the rest of the year.
Not sure what cover to buy? If you're interested in a full fit cover, measure from the front of the cowling to the rear bumper. And because like most cars, each snowmobile is made differently, we offer a wide range of covers with brands (made exclusively by Outdoor Covers) for most sleds including with three distinct product lines and five fits from single seat sleds to today's largest grand touring models.
Nanook Snowmobile Covers are top of class universal covers designed for all sled chassis and made to handle our rough Canadian winters. Made from heavy duty TuffTex™ treated polyester and the high stress areas are reinforced with the seams being double stitched for long lasting durability.
Key Features:
Multi tie down system allows option for storage and for trailering. The first set of straps ties the cover to the sled securely. The second set ties to chassis or trailer.
Fabric is rugged and resistant to rain, snow and ice
A soft inner layer protects the windshield and cowl area
Also includes a gas tank access hatch, rear air vents and rear reflector
A storage bag is included
Three Year Warranty
Venture Snowmobile Covers are premium all season outdoor storage covers made with ShurTex™ solution dyed marine fabric that is highly water resistant, sun resistant and breathable.
Key Features:
Premium marine grade solution dyed fabric with water resistant coating ensures breathable and all weather durability and is designed to withstand long term exposure to the sun
Straps and buckles with an all encompassing elastic hem makes for a secure fit
Fitted with air vents for critical air circulation
Handy storage bag is included
Two Year Warranty
Advantage Snowmobile storage covers are designed to be versatile, practical and cost effective for indoor storage or short term outdoor storage. The cover material is a versatile polyester fabric with PU inner coating that keeps dust and dirt off the sled indoors, plus keeps rain and snow off outdoors.
Key Features:
A strong elastic hem fits snug all around the sled to keep cover snug plus straps and buckle tie downs for a secure fit
Lightweight, water resistant and sturdy to protect your snowmobile from the elements short term
Includes rear vents for air circulation
A storage bag is included
One year warranty

If you're ready to shop, browse our website for all your home and motor vehicle covers. We exclusively create our covers, meaning our products are designed in Canada for our weather and needs. We offer high-quality materials, the best selection and great deals. We're also proudly Canadian meaning you don't have to worry about those pesky duty fees and exchange costs. Contact us for questions.